Welcome to our latest installment of noteworthy disability-themed articles! In addition, as a leader in the field, we are pleased to share our experience, knowledge, and expertise with the disability community through our social media outlets: Facebook, Twitter, LinkedIn, YouTube, and Pinterest.
In addition, we are specialists in the area of assistive technology and offer an array of services. The Assistive Technology Center is New Jersey's premier source of information and equipment.
Featured Advancing Opportunities Job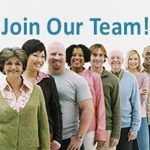 We have several immediate full- and part-time openings for Residential Support Specialists in several areas of New Jersey to provide care to men and women with disabilities who are living in group homes and supported apartment settings. This rewarding role includes teaching and/or assisting with personal care and daily-living activities; accompanying residents on recreational pursuits, medical appointments, or shopping; and helping integrate the residents into their communities.
Other Advancing Opportunities News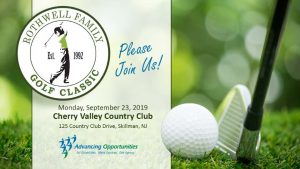 Calling All Golfers! Join us for what has become a golfing tradition in Mercer County! For 27 years, golfers have joined the Rothwell Family and Pennington Quality Market in September for our annual Family Golf Classic. Players and sponsors raise funds to provide services and supports to people with disabilities. This year, we're playing at the prestigious Cherry Valley Country Club in Skillman, N.J., on Monday, September 23, 2019.
Also of interest: Our Great Golf Raffle is back! With one or more $20 tickets, you can win a day of golf at one of seven of New Jersey's finest courses for you and three friends. To find out more and purchase tickets, please visit us here: The lucky winner will know at the Rothwell Family golf event, above.
Disability in the News (Mostly in New Jersey, the Population We Serve)
A New Jersey businessman surprised a struggling family by paying their mortgage. The family of six has a daughter and a set of triplets, all of whom are on the autism spectrum.
Greta Thunberg may be a leading voice when it comes to environmental issues, but she's slowly beginning to establish herself as a disability advocate as well.
For Parents of a Child with a Disability (Parenting)
These artistic photographs of babies with Down syndrome are truly a beautiful sight to behold!
In this Star-Ledger piece, several New Jerseyans with autism and how they came of age are profiled.
Earlier his month, LifeTown opened its doors in Livingston, NJ! This highly creative center allows children with autism and other disabilities to enjoy companionship in a quiet, friendly setting. Its focal point is "Life Village," a simulated Main Street, that "offers real-life scenarios in a safe, controlled environment." The center also includes a sensory-friendly swimming pool, gym, and therapeutic center, along with career-readiness and social-skills training to enable them to participate in society.
Advocacy and Self-advocacy
Schools once refused disabled kids, but that did not stop this mom from starting a revolution.
Emma's Law: A Cranford, New Jersey, mother advocates for her autistic daughter, demanding greater transparency on private buses transporting children with disabilities in the state.
This article from the New York Times remembers and appreciates the life and work of Marca Bristo. An influential advocate for the disabled, she died at 66.
Unstoppable: "Disability is caused by the way society is structured, rather than by a person's impairment or difference" with actor, filmmaker, and double hand amputee, John Lawson.
Disability Awareness
In case you want to watch yesterday's edition CBS This Morning again, here's the chance. The show featured and interview with Cathy, a woman who describes herself as a "nerdy little girl." Her teachers admired her intelligence and placed her in an advanced reading group. There, however, Cathy found out she was unable to read traditional print. She found other ways to express her keen intelligence.
Disability Rights, Accessibility
From Forbes magazine: "The New Faces of Disability: Busting Stereotypes and Bending the World to Fit Their Needs"
Disability rights groups join in a challenge to the proposed "public charge" rule.
Employment for People with Disabilities
Disabled workers chase "dream jobs" in a tight U.S. labor market. However, a Newsweek article asks whether a feared recession could reverse these important gains. As the piece points out, "During the 2008 recession, disabled workers lost jobs at a higher rate than non-disabled persons."
Doctors with disabilities push for culture change in medicine. They offer their insights and prespectives. This August 2018 piece is worth revisiting!
This novel Washington, D.C., academy trains people with disabilities to provide paid support for others living with disabilities.
The Arts and People with Disabilities
Listen to this excellent PBS podcast on how "violinist Gaelyn Lea is redefining who can be a musician."
Fashion, Beauty, and Glamour: Inclusion of People with Disabilities
"Why More Brands Should Pay Attention to the Nearly $290 Billion Adaptive Fashion Market"
People with a Disability in the Community (Disability Rights and Acceptance; Inclusion)
A Millstone, New Jersey, teen with autism has earned worldwide recognition by promoting an important message of inclusion.
Dental students will soon be trained to care for patients with autism and other disabilities.
;