Welcome to our latest installment of noteworthy disability-themed articles! In addition, as a leader in the field, we are pleased to share our experience, knowledge, and expertise with the disability community through our social media outlets: Facebook, Twitter, LinkedIn, YouTube, and Pinterest.
In addition, we are specialists in the area of assistive technology and offer an array of services. The Assistive Technology Center is New Jersey's premier source of information and equipment.
Featured Advancing Opportunities Job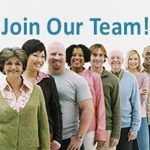 We're growing; you can, too! Advancing Opportunities is hiring dedicated, caring Direct-Support Professionals for leadership positions to work with individuals with developmental disabilities at group homes at various locations throughout New Jersey. Day, night, and evening shifts are available, both full- and part-time.
Other Advancing Opportunities News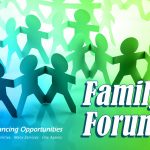 To the individuals with a disability and the families we serve: Come to one of three Family Forums later this month. We'd like to: update you on agency news, discuss the changes in the state's service delivery system, and hear your concerns.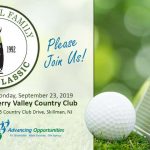 Calling All Golfers! Join us for what has become a golfing tradition in Mercer County! For 27 years, golfers have joined the Rothwell Family and Pennington Quality Market in September to raise funds to provide services and supports to people with disabilities. This year, we're playing at the prestigious Cherry Valley Country Club in Skillman, N.J., on Monday, September 23, 2019.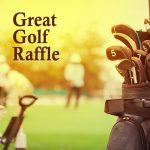 Also of interest: Our Great Golf Raffle is back! With one or more $20 tickets, you can win a day of golf at one of seven of New Jersey's finest courses for you and three friends. To find out more and purchase tickets, please look here. The lucky winner will know at the Rothwell Family golf event, above.
Disability in the News (Mostly in New Jersey, the Population We Serve)
From Dr. Paul Aronsohn, New Jersey Ombudsman for people with disabilities: "Candidates, take time to address those with disabilities."
This is especially important, as people with disabilities are "a powerful voting bloc," according to an important Rutgers University study.
House Passes Autism Collaboration, Accountability, Research, Education and Support, or Autism CARES Act. This legislation sets aside funds for research, professional training, and other government activities related to autism, for all age groups.
New Jersey Lieutenant Governor Sheila Oliver signed legislation to assist students, hard-of-hearing community. The measures establish a "Deaf Student's Bill of Rights," a Working Group on Deaf Education, and require the DOE to develop a resource guide for parents.
Informative, Positive, Noteworthy (or All Three!)
Where are the Wheelchairs? by Laura Rosell. A young woman looks back on life with her disabled aunt and the life she led. She reflects why people with disabilities are barely represented in photos. And why are not the lives of disabled people not told – everyday lives, rather than those tear-jerker inspiration stories.
This interesting 2017 Scientific American article explores "the real reasons autism rates are up in the U.S."
Gloucester Township, New Jersey, neighbors raised more than $50,000 to help a disabled man keep his home. They consider him very much part of their extended family.  Indeed, the good news made it national cable TV.
New York Times article: "How to Meet Autistic People Halfway": That autistic people are not interested in others is wrong. According to the writer, "Presuming that they are not sociable effectively dehumanizes them." These findings are backed in recent research published by the University of Cambridge.
Assistive Technology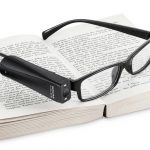 The OrCam MyEye device is a wearable smart camera that helps people who are blind or visually impaired. If you are in New Jersey, come to our free demonstration, Tuesday, September 10. To find out more, click here.
News from the IEEE: Humanoid robots teach coping skills to children with autism.
For Parents of a Child with a Disability (Parenting)
Dear parents, when you meet a child with special needs, don't leave. Stay and play. Here are some very good tips: Showing kindness through example is very good parenting every time.
"In adolescents with a developmental, cognitive, and physical disability, social media use may encourage socialization and engagement." On the other hand, they are at greater risk of the negative effects of social media, in particular cyberbullying."
Employment for People with Disabilities
The 2019 Disability Inclusion Index is now available. Find out which companies are noted for their inclusion of employees with disabilities.
  nTIDE June 2019 Jobs Report: Job numbers show strong gains for Americans with disabilities.
This excellent program in New York is just one example. However, there are many local businesses that recognize the value of loyal and hard-working people with intellectual disabilities present. This article interviews several of these workers. They speak of not only the financial pluses, but also the dignity and self-esteem a meaningful job brings. This is what our Career Development Specialists do every day.
The Arts and People with Disabilities
Listen to this excellent PBS podcast on how "violinist Gaelyn Lea is redefining who can be a musician."
Fashion, Beauty, and Glamour: Inclusion of People with Disabilities
Differently abled model Jillian Mercado is making it her mission for other women like her to feel seen in and outside of the fashion world.
Notable Research on Disability
Research study: "Understanding the genetic mutation that happens in humans is vital in understanding what could be causing autism and how to deal with it."
A large study supports discarding the term "high-functioning autism." Sometimes, autistic people with high intelligence have poor adaptive behavior.
"About 81 percent of autism risk comes from inherited genetic factors, according to an analysis of more than 2 million children from five countries, published [July 2019] in JAMA Psychiatry."
People with a Disability in the Community (Disability Rights and Acceptance; Inclusion)
Autism and Authenticity—The Good Men Project
Is it ethical for mainstream media companies to feature characters with autism without hiring actors with autism?
And a related article: The media loves to tell stories about the disabled, but hates casting disabled actors. Why?
In Japan, two severely-disabled candidates win seats in Japan's upper house vote.