To turn an electronic device on or off, individuals with acute physical challenges need a special switch. There are multiple solutions on the market. Previously, we covered the Pal Pad switches, Buddy Button, and Ultimate Switch. Today, we will cover three examples that activate an adapted device by means of a gentle hand grip.
Grip and Puff Switch
New to our Technology Center is the Grip and Puff Switch. When the user grasps the colorful vinyl grip, a puff of air activates the electronic switch. Made by Enabling Devices, the pneumatic Grip and Puff is versatile in that in can be used a puff switch. To do so, one simply replaces the grip with a plastic straw and anti-contamination filter.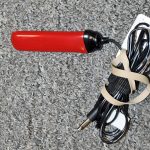 Pinch Switch
The Pinch Switch, also by Enabling Devices, requires only the slightest touch – a mere 100 grams (3.5 ounces) of force – to turn an adapted device on or off. Small and lightweight, the Pinch Switch is well suited for children.
Grasp Switch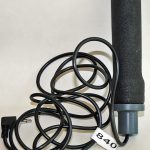 The third grip-activated switch we have in at the Technology Lending Center is the Grasp Switch. Made by AbleNet, the Grasp Switch is less sensitive to operate, requiring 300 grams (11 ounces). The company notes that the user must be able to release their grip after two seconds to prevent the switch from continuing to operate.
If you live in New Jersey, the staff at the Technology Lending Center can help determine which design best suits the client's needs.