The AbleNet All-Turn-It Spinner allows people to participate in activities and games that require randomization, such as rolling dice. It can also be used to generate numbers for playing Bingo.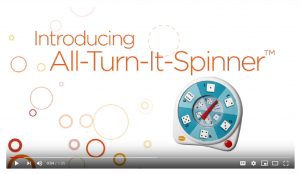 On the face of the All-Turn-It Spinner are two discs or rings and an arrow. The inner ring turns clockwise while the arrow spins in the opposite direction. The outermost ring is fixed. (The two rings offer the option of playing with one or two dice.) Access is gained through three access methods:
Switch on lower right-hand side
Port on the side into which one can plug in favorite external switch, such as the New Blue2
AbleNet wireless receiver, which rests in a nook in the back of the device, that will connect to a wireless switch. The wireless switch can be passed along to other members of the group, enabling them to take turns.
The All-Turn-It Spinner comes with overlays (covering both rings) for playing dice. Moreover, all is not work! The All-Turn-It Spinner offers suggestions for setting up the device to play other popular games that involve dice, from backgammon to Monopoly. For these, other overlay kits are available, as is a blank overlay for teachers to create their own activities. (AbleNet provides files for quick and easy printing.) In all this, the All-Turn-It Spinner allows students to participate actively, rather than have someone do it for them.
We have one at our Technology Lending Center for New Jersey residents to try out for free!