Welcome to our latest curated collection of noteworthy disability-themed articles! In addition, as a leader in the field, we are pleased to share our experience, knowledge, and expertise with the disability community through our social media outlets: Facebook, Twitter, LinkedIn, YouTube, and Pinterest.
In addition, we are specialists in the area of assistive technology and offer an array of services. The Assistive Technology Center is New Jersey's premier source of AT information and equipment.
Featured Advancing Opportunities Job
We are seeking to hire a highly qualified Assistant Director of Residential Services & Intake. This individual will be responsible for developing and implementing a comprehensive internal and external marketing and intake plan that fulfills Advancing Opportunities' residential contract and expands the residential services throughout the state. The Assistant Director of Residential Services & Intake shall be responsible for the development, implementation, and quality operations of residential services in general, as well as regional behavioral and clinical services for residential services.
We still have several immediate full- and part-time openings for Residential Support Specialists to provide care to men and women with disabilities who are living in group homes and supported apartment settings. This rewarding role includes teaching and/or assisting with personal care and daily-living activities; accompanying residents on recreational pursuits, medical appointments, or shopping; and helping integrate the residents into their communities.
We offer an excellent benefits package, as well as opportunities for promotion from within.
Paid training
Generous benefits, including 401(k) retirement plan
Room for advancement.
Other Advancing Opportunities News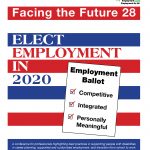 Our Assistive Technology Services professionals will be presenting at two conferences:
Facing the Future 28th Annual #Conference—Elect Employment in 2020
Friday, March 20, New Brunswick, NJ, ASPE & Boggs Center
Kristen Russell, OTR, ATP, will present workshop 16: "Trek into Tech: Assistive Technology Accommodations in the Workplace"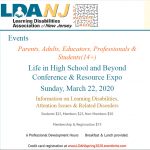 LDA-NJ Navigating the Maze Conference
Sun., Mar. 22, Ewing, NJ, TCNJ
We will present Workshop 9: #AssistiveTechnology Within Reach: Free Built-Ins for Chromebook & iPad.
Alexandra Mendez, M.Ed., will present workshop 9: "Assistive Technology Within Reach: Free Built-Ins of the Chromebook and iPad"
Disability in the News (Mostly in New Jersey, the Population We Serve)
Governor Murphy announced two programs to help teens with mental health challenges:
With the Mental Health First Aid Training program, at least one person from every school district and higher education institution would be trained and certified as Mental Health First Aid instructor.
The New Jersey Department of Education will create a working group to help school districts develop the support and resources needed to provide ongoing assistance.
In addition, new legislation in New Jersey expanded services for students with disabilities.
In other news, the Murphy Administration offered tax credits to employers to offset minimum wage increases for workers with disabilities. The news was also reported here: New Jersey Is Accepting Tax-Credit Applications from Companies Employing People with Disabilities
New Jersey now has a state dog: the Seeing Eye guide dog.
Informative, Positive, Noteworthy (or All Three!)
A thoughtful essay appeared in the Washington Post: "Experiencing the world has shaped my worldview and the way I interact with others. I started when I was 6 in Russia, with my family's help, and I haven't stopped. I just turned 23."
A man turned his passion for ties into a livelihood, as reported in the Christian Science Monitor: "Fashion—not disability—defines this young entrepreneur's future."
Four films advancing disability awareness have been in the news:
A disability documentary,"Crip Camp, won over Netflix, the Obamas, and the Sundance film festival. As described in one review, "Steeped in the humor and music of the era, Crip Camp explores the universal experience of summer camp awakenings that would transform lives and shape the future of the disability rights movement."
Variety reviews the Netflix film 37 Seconds. "An aspiring manga artist with cerebral palsy seeks liberation—and sexual experience—in Hikari's stereotype-defying drama."
This review offers nine reasons to watch Pixar's new short, "Loop." It features a relationship between a neurotypical teen and his friend, Reneé, who is autistic and does not communicate through oral speech. "It's a reminder that not all communication requires words."
The Healing Powers of Dude, a series on Netflix has disability inclusion as its theme, emphasizing the importance of authentic representation of visible and non-visible disabilities.
Assistive Technology
Freedom Wing, a new Xbox adapter lets people turn their power wheelchairs into game controllers. This add-on follow up on the revolutionary Xbox Adaptive Controller Microsoft introduced in 2018.
A report in the Financial Times discussed "smart cities" and how "improved data paves the way for improved accessibility."
For Parents of a Child with a Disability (Parenting)
A new mom explains how Early Intervention, a national program, helped her accelerated her son's recovery after a prenatal stroke that may have otherwise gone undiagnosed.
A dad in Britain built a game controller so his disabled daughter could play her Nintendo games.
A Rutgers University study found that families with children with #autism face numerous taxing challenges. The study was published in the International Journal of Autism & Related Disabilities.
A report from the Center for American Progress finds that the child care crisis disproportionately affects children with disabilities. Obtaining inclusive and responsive child care becomes an added challenge for these for these families.
Advocacy and Self-advocacy
In line with our mission that people with disabilities participate fully society, we urge everyone to vote in all elections. By publishing its 2020 Disability Voter Guide, an advocacy organization, "invited all candidates in the presidential race on both sides of the aisle to submit their answers" to a questionnaire. Topics cover some of the most important issues impacting people with disabilities, including employment, education, immigration, criminal justice, and accessibility.
Disability Awareness
Disability advocate and self-advocate Andrew Pulrang says, "It's time for a reimagining of disability etiquette." The same author wrote about representation in film: "Disability Movies Aren't What They Used To Be. That's Good!"
The Newbery and Caldecott awards for the best in new children's books have been announced. In addition, several books telling the stories persons with autism and other disabilities have been honored.
College for Students with a Disability
Shawn Aleong, a Temple University student who has cerebral palsy, has built his vocation on advocating for others with disabilities.
Disability Rights, Accessibility
The Nation produced a photo essay: "Blocked Parking Spots, Broken Sidewalks, and Boulders: How Common Spaces Fail People with Disabilities."
Employment for People with Disabilities
No Limits Café, a restaurant staffed almost entirely by adults with developmental disabilities, opened in Middletown, New Jersey.
Disability advocate Andrew Pulrang outlines five ways we should consider regarding the complicated relationship between disability and work:
1. Some people with disabilities want to work, while others do not.
2. Hard work means different things to different people.
3. This community needs equal opportunity, not shame.
4. Government benefits and paid employment often go well together.
5. Disabled people deserved to be compensated fairly and under good working conditions.
Fashion, Beauty, and Glamour: Inclusion of People with Disabilities
Molly Burke, a Canadian YouTuber, discusses how making videos has enhanced her confidence. In addition, she is now working to break barriers for people with disabilities in fashion and beauty.
Model Jillian Mercado (who has muscular dystrophy) dedicates a NYC Fashion Week moment to anyone with disabilities who "has felt unseen and unheard."
Sinéad Burke discusses the changes she would like to see in the fashion industry.
Notable Research on Disability
A large study identifies more than 100 genes linked to autism. In other research, "People with autism have more brain-related health problems, such as headaches and epilepsy, than typical people do." Time magazine also reported on this news.
As reported on NPR and the journal Nature Neuroscience, Researchers Link Autism to a System That Insulates Brain Wiring
The widely used Autism Diagnostic Observation Schedule (ADOS) test needs improvement to ensure greater reliability, Rutgers researchers say.
As reported in this series previously, New U.S. CDC autism guidelines call for early intervention.
…Yet, according to a Rutgers University study, one-fourth of children with autism are undiagnosed, especially among African Americans and Latinos. Data from the Autism and Developmental Disabilities Monitoring (ADDM) Network was used.
Adults with autism vary enormously in their quality of life, and two factors may explain most of this variation: intelligence quotient and challenges such as hyperactivity.
People with a Disability in the Community (Disability Rights and Acceptance; Inclusion)
New Jersey students with autism are cracking codes of computer literacy.
In our previous column in this series, we applauded American Girl naming Joss, a girl with a hearing disability, Girl of the Year. We are pleased to report that the theme of inclusion continues! The company behind Barbie wanted to show a "multi-dimensional view of beauty and fashion" with its new series of dolls, most with physical disabilities and conditions.
Disability in the Arts
Kieran Castaño's paintings "aren't just beautiful—they're necessary." The autistic artist's pointillist style reflects his stimming.