Welcome to our latest installment of noteworthy disability-themed articles! In addition, as a leader in the field, we are pleased to share our experience, knowledge, and expertise with the disability community through our social media outlets: Facebook, Twitter, LinkedIn, YouTube, and Pinterest.
In addition, we are specialists in the area of assistive technology and offer an array of services. The Assistive Technology Center is New Jersey's premier source of information and equipment.
Featured Advancing Opportunities Job
Advancing Opportunities is hiring a part-time Driver Support Worker to transport an employee with visual impairments from home to work appointments in the Union County area. Appointment sites include schools, work places, and service recipient's homes. The Driver Support Worker coordinates schedules to ensure the employee arrives at scheduled appointments on time and will remain with the employee to provide assistance, if needed. Hours may include evenings and weekends.
Other Advancing Opportunities News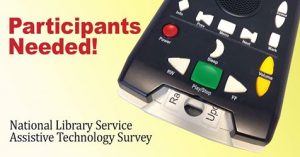 Advancing Opportunities is pleased to be working with Gallup to help the National Library Service (NLS) at the Library of Congress conduct a survey about how people who are blind, have low-vision or are physically disabled use and access assistive technology. Survey results will help the NLS better meet the needs of people with disabilities through assistive technology. Gallup has created a five-minute questionnaire to determine whether individuals are eligible to participate in the NLS survey.
Caregivers for someone eligible to receive services are encouraged to help the person they are caring for in completing the survey.
To take this initial survey, visit tiny.cc/NLS or call 1-888-305-6873.
The NLS offers free braille and talking book library services for people with temporary or permanent low vision, blindness, or a physical disability that prevents them from reading or holding the printed page.
Disability in the News (Mostly in New Jersey, the Population We Serve)
This article explores the challenge of improving life for adults with developmental disabilities in New Jersey, especially as their life expectancy continues to grow. A local PBS piece outlines this development.
William Paterson University is set to launch the first Bachelor's degree in disability studies.
Advocacy and Self-Advocacy
Advocates in New Jersey say families should regularly revisit the conversation around guardianship, especially as circumstance change, individuals age, and mental and health capacities decline.
A New Jersey advocate suggests that a LGBTQ curriculum could make public schools safer. This initiative includes people with disabilities in the Garden State.
A young woman with an autoimmune disease explains how she self-advocates for researchers with disabilities and illnesses.
Assistive Technology
Here's an interesting article: 'A life changer': How 1 invention is helping kids with cerebral palsy experience running
Advocacy and Self-advocacy
Yetnebersh Nigussie lost her sight at age five. Now an Ethiopian disability rights advocate, she champions opportunities for women. Listen to her story in this Voice of America podcast.
College for Students with a Disability
A recent article in USA Today: "What happens after college for students with Down syndrome? A LOT."
Disability Rights, Accessibility
Seiichi Miyake redefined the way blind and visually impaired people look at the world. He was honored this month, on his birthday.
Informative, Positive, Noteworthy (or All Three!)
This is an interesting piece, reflecting the high importance of going beyond two-dimensional portrayals (and stereotypes) of people with disabilities: "How people's misconceptions of disability lead to toxic microaggressions."
The power of this art lies in our ability to view it outside assumed ideas about the body: "I Dance Because I Can."
Steve Silberman, author of Neurotribes, gave an important TED talk: "Autistic people are not failed versions of 'normal.' They're different, not less."
And on this theme, here's a very thoughtful piece: "Disabled people don't need to be 'fixed'" 
"There's No Tragedy for Me" discusses  actress Selma Blair's transformation .
This noteworthy blog post reflects on multiple aspects of disability awareness: "On the Ancestral Plane: Crip Hand Me Downs and the Legacy of Our Movements"
A big brother reaches out to his little brother, who has autism. Together, they form an unbreakable basketball bond.
Special Education
A parent discusses how discrimination against persons with mental illness starts in elementary school.
Fashion, Beauty, and Glamour: Inclusion of People with Disabilities
Artistic photography and the subject of models with Down syndrome show beauty in a new light.
Notable Research on Disability
Yet "one more time": One of the largest studies of its kind concludes that the MMR vaccine does not cause autism.
An article explores how the brain's social "river" carries clues about autism.
Research that the "tone of phrase" may differ among people with autism, but meaning remains clear.
This article discusses guidance offered for managing therapies in children with disability.
People with a Disability in the Community (Disability Rights and Acceptance; Inclusion)
Here's a delightful piece on disability awareness… with a twist.
https://www.npr.org/2019/03/20/704956960/-abledsareweird-people-with-disabilities-share-uncomfortable-encounters
Opinion piece in the Washington Post: "Disability and disease aren't interchangeable." https://wapo.st/2TBpTtQ?tid=ss_tw&utm_term=.31b40adb068f
A cautionary but ultimately uplifting article: "Don't dwell on what you can't do": travelling with disabilities
We found this interesting article in the journal Autism: "Variability in first impressions of autistic adults made by neurotypical raters is driven more by characteristics of the rater than by characteristics of autistic adults."