Welcome to our latest installment of noteworthy disability-themed articles! In addition, as a leader in the field, we are pleased to share our experience, knowledge, and expertise with the disability community through our social media outlets: Facebook, Twitter, LinkedIn, YouTube, and Pinterest.
In addition, we are specialists in the area of assistive technology and offer an array of services. The Assistive Technology Center is New Jersey's premier source of information and equipment.
Featured Advancing Opportunities Job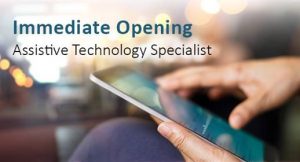 Advancing Opportunities has an immediate opening for full- and part-time Assistive Technology Specialists. These professionals will provide computer training to blind or visually impaired people in New Jersey. Throughout, they will be delivering technical assistance and training.
Monmouth County: http://bit.ly/2SZ0aYZ
Union County: http://bit.ly/2SZ0aYZ
Other Advancing Opportunities News
Throwback time! Throughout the state, our consumers, families, and friends got together in the spirit Valentine's Day. Among the crafts and Valentine's Day-themed games, there was that perennial favorite: cards bearing messages of love. There certainly was much to celebrate!
Disability in the News (Mostly in New Jersey, the Population We Serve)
The Down Syndrome Association of Central New Jersey is celebrating World Down Syndrome Day (March 21) a few days later this year Join us March 23, 2019, for our 5th Annual – Rock Your Socks Off Dance Fundraiser, right here in our own backyard of Ewing, New Jersey.
The theme year is "Our Dreams Are Taking Flight."
New Jersey Senator Bob Menendez pushes to reauthorize and expand funding for autism spectrum disorder.  A similar bipartisan bill is also in the works in the House. This $1 billion autism bill would bolster support for those who "age out."
Advocacy and Self-advocacy
Carrie Ann Lucas, a disability advocate, died at age 47. "You probably haven't heard of her, and that's a problem."
Meet Dr. Burgos. She's a dedicated mom. She's also a family physician. One would expect someone like Dr. Burgos to be kind and caring. Indeed, she's all that. What's more, she's a fierce advocate for her son and fellow New Jersey children with Down syndrome.
From Essence magazine: "Black History Now: Vilissa Thompson—Activist, Writer, Licensed Social Worker and Disability-Rights Advocate"
A new organization, National Council on Severe Autism, faces backlash over its goals. The controversy surrounds who should speak out for this population (similar to the case of Autism Speaks).
Employment for People with Disabilities
We have always believed there are rewarding jobs for persons with various disabilities, enabling them to participate fully in the community. Furthermore, the concept of neurodiversity—that there are multiple (and different) ways of interacting with the world – is one of inclusion. Meet the artists with autism creating effects for Oscar-nominated films.
The Arts and People with Disabilities
This is amazing! A Philly artist who "just happens to be autistic" continues to garner praise for his massive building sculptures.
Notable Research on Disability
This article explores whether "autism is better understood as multiple interrelated spectra."
Mom's voice causes a strong response in the brains of typically developing children, but the response is weaker in children with autism, a Stanford study has demonstrated.
A large research study revealed that a bumper scan of genomes pinpoints inherited risk factors for autism.
An article explores how to untangle the ties between autism and obsessive-compulsive disorder.
People with a Disability in the Community (Disability Rights and Acceptance; Inclusion)
Baseball season! A 23-year-old man with autism founded a nonprofit, Alternative Baseball, to further his passion for the diamond and make it more inclusive for others on the spectrum.