Welcome to our latest installment of noteworthy disability-themed articles! In addition, as a leader in the field, we are pleased to share our experience, knowledge, and expertise with the disability community through our social media outlets: Facebook, Twitter, LinkedIn, YouTube, Google+, and Pinterest.
In addition, we are specialists in the area of assistive technology and offer an array of services. The Assistive Technology Center is New Jersey's premier source of information and equipment.
Featured Advancing Opportunities Job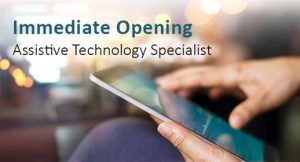 Advancing Opportunities has immediate full- and part-time positions open for Assistive Technology Specialists to provide computer training to people who are blind or visually impaired in the Monmouth County area. Duties include traveling to schools, workplaces and homes to provide on-site assessments and delivering technical assistance and training to people with visual impairments.
Disability in the News (Mostly in New Jersey, the Population We Serve)
Boggs Center Facing the Future 27th Annual Conference: Playbook for Employment Gold
Friday, March 22, 9 a.m. to 4:00 p.m.
An employment training program in Atlantic City helps young adults with disabilities prepare for independence.
The New Jersey state government has announced plans to pay February's SNAP benefits early amid the government shutdown. A flyer explains the updates.
Assistive Technology
A 25-year-old Kenyan has invented gloves that convert sign language into audio speech.
Hi-tech batons allow blind musicians to follow conductor for first time.
ATOB Volume 12 Issue 1 – Assistive Technology Industry Association:
"Implementing AT in Practice: New Technologies and Techniques"
Advocacy and Self-advocacy
Working with a disability eats up hours and effort to attend medical appointments, fill prescriptions, follow up on referrals, and be one's own advocate. Yet, not all is lost: workers have important rights, as well as access to a number of services.
Employment for People with Disabilities
From Entrepreneur magazine: "Employing individuals with disabilities may solve your talent crisis."
Informative, Positive, Noteworthy (or All Three!)
This bridal boutique put a mannequin in a wheelchair—and people love it! This includes many in the disability self-advocacy community.
It was a sufficiently large story for the BBC and NPR to cover!
Sure, assistive technology played a part. However, this is a story of positivity in so many ways! A girl uses braille to practice chanting from the Torah for her Bat Mitzvah.
 Notable Research on Disability
Spectrum News has compiled these four studies of autism and gender:
People with a Disability in the Community (Disability Rights and Acceptance; Inclusion)
A sixth grader with Down syndrome shares her story of inclusion.