"Full Inclusion with Sign Language" is the theme this year for the International Week of the Deaf. The event runs from September 18 through 24. First observed as the International Day of the Deaf in 1958, the awareness campaign was extended to the current week. The World Federation of the Deaf (WFD) is an international, non-governmental organization of national associations of Deaf people and is recognized by the United Nations (UN) as their spokes-organization to promote the human rights of Deaf people. The WFD is composed of 130 national associations of the deaf and represents approximately 70 million Deaf people worldwide.
Listening to History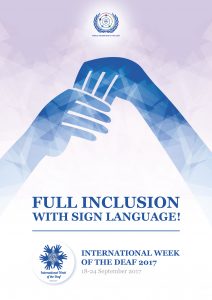 The Greek philosopher Aristotle wrote that the deaf were not able to reason. And during the Middle Ages, deaf people were thought to be possessed by demons, owing to their highly gesticulated communication. In the 15th century, Teresa de Cartagena, a nun who became deaf later in life, challenged her disability and continued to write religious treatises. Geralmo Cardano (1501-1576), an Italian Renaissance physician and scientist, taught his deaf son to use symbols. At that time, a Spanish Benedictine monk, Pedro Ponce de Leon (1520–1584) became the first teacher of the deaf. (By contrast, it was not until the first half of the 19th century that Louis Braille developed his means of communication for the blind.) A noteworthy event was the Second International Congress on the Education of the Deaf, held in 1880, in Milan, Italy. The participants (which included not a single deaf educator) argued for the Oral Method of deaf education, that all communication with deaf children should be through speaking and lip reading. Sign language was banned, which was counter to the practice at Gallaudet College (now Gallaudet University), a bilingual institution founded in 1864. It is, therefore, noteworthy that the National Association of the Deaf (the U.S. agency) also refers to this initiative as the International Week of Sign Language.
Key Messages
According to Signing Savvy, the key messages are the following:
Birth right. Deaf people need access to sign language from birth.
Deaf identity. Deaf people belong to a cultural and linguistic community, using sign language as both a mother tongue and a means of daily communication.
Accessibility. Deaf people need access to public information and services via sign language.
Equal language. Sign language is a full, functioning means to convey thoughts, feelings, and ideas, with its own grammar and syntax.
Bilingual education. Sign language should be used in classrooms to enable deaf children to communicate with their hearing peers.
Equal employment opportunities. As deaf people are able to perform nearly every job, they should be in a position to secure positions that reflect their interests and talents.
Lifelong learning. Academic, vocational, and professional education and training opportunities should be fully available to the deaf community.
It is also worth noting that the Arizona Commission for the Deaf and Hard of Hearing, a prominent organization, has extended this week to a month-long event.
Going Deeper
First, for a wealth of general information, there is the National Institutes of Health (NIH) National Institute on Deafness and Other Communication Disorders (NIDCD). DMOZ has several useful links to articles and resources on American Sign Language. A site called Handspeak provides a handy ASL video dictionary, as does the American Sign Language Browser. There is also an online ASL tutorial.
This month, on our blog, we are featuring a testimonial of a deaf individual we served and assistive technology devices we have available to make everyday activities accessible to people who are deaf or hard of hearing.