Stephanie is deaf, fluent in American Sign Language. Before today's video chat technology, Stephanie relied on TTY, but that system relied on English, whose grammar, vocabulary, and usage are very different from ASL. Dragon is an assistive technology iPad communication app that converts what people speak into the iPad to text. Stephanie can then use the iPad to type a message back, by typing back. The tablet will then convert the message back to speech for the original sender.
People in the Deaf community do a lot of networking and share information they find helpful and valuable. Through her contacts, Stephanie heard about the Assistive Technology Center  at Advancing Opportunities. So she obtained a referral from the New Jersey Division of Vocational Rehabilitation Services (DVRS). At the Assistive Technology Center, Stephanie was encouraged to try out different technologies to determine which would meet her access needs best.
"Today, the technology is so much better. It's more convenient and easier to use, and it has more features. So I feel I can express myself better today. You know, English is not my first language. American Sign Language is my first language."  "Today, I can just sign feely and it's much easier to communicate. … It's a much smoother system." This combination is much easier to use than having to type back and forth. "It's much more up close and personal," says Stephanie. "Assistive technology has really helped me with my communication," she says, adding that helps her to be much clearer and to communicate with greater confidence, smoothness, and intimacy. Most important, "It leads to more independence in my life." The hardware is also a lot easier to carry around.
A related assistive technology iPad communication app, Dragon Dictation, is available for loan from the Technology Lending Center, enabling New Jersey residents to try it out for free.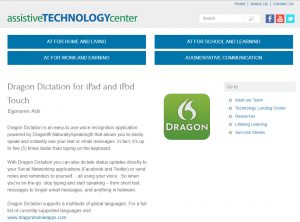 Assistive Technology iPad Communication App