Notable Disability Articles June 2018: Welcome to our latest installment of noteworthy disability-themed articles! In addition, as a leader in the field, we are pleased to share our experience, knowledge, and expertise with the disability community through our social media outlets: Facebook, Twitter, LinkedIn, YouTube, Google+, and Pinterest.
In addition, we are specialists in the area of assistive technology and offer an array of services. The Assistive Technology Center is New Jersey's premier source of information and equipment.
Featured Advancing Opportunities Jobs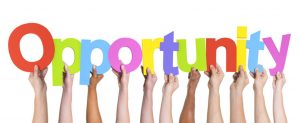 We're hiring! Choose from a variety of rewarding full- and part-time jobs. Want to know more? Meet us at our next open house: Wednesday, July 11, 10 a.m.–3:00 p.m., at our Parsippany office:
322 US Hwy 46 W, Ste. 290
Parsippany, NJ 07054
Of course, at any time, you are welcome to look at our career offerings and apply online. Work for a New Jersey leader!
Other Advancing Opportunities News
We would like to express our thanks to Borden Perlman Insurance for letting us use their Trenton Thunder suite recently! Residents from several of our group homes in the Trenton, New Jersey, area had a wonderful time and enjoyed the game.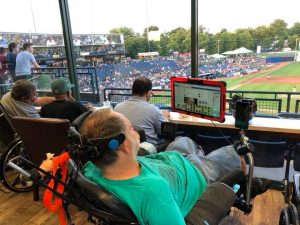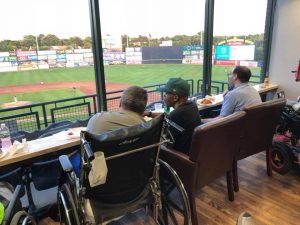 Disability in the News (Mostly in New Jersey, the Population We Serve)
N.J. Gov. Phil Murphy plans to move mental health and addiction services back to state's Department of Human Services.
New Jersey Human Services Commissioner Carole Johnson recently announced ABLE, a savings program for people with disabilities in the state.
Federal agencies urge states to take steps to make group homes safer. In similar news, New Jersey recently enacted the Stephen Komninos Law for direct-support professionals, enacted May 2018.
Assistive Technology
A quadriplegic man knew he had a talent for music, and he wanted to share it. So, he invented a device to do so. Now, he has a nationwide audience.
Octopi are highly intelligent creatures. It's little surprise, therefore, that they inspire innovations in assistive technology.
For Parents of a Child with a Disability (Parenting)
An NPR podcast discusses teaching parents of children with disabilities to fight back.
It's also a "teachable moment" to teach the children about self-advocacy. For parents in New Jersey needing additional service, we offer a one-on-one individualized advocacy service to help parents navigate the complex maze that is special education.
Disability Rights, Accessibility
This article discusses ways in which to tackle the plastic straw problem without ignoring disabled people.
Employment for People with Disabilities
Popcorn for the People: A New Jersey company is employing adults with autism. Each bag sold benefits this community, offering them dignity and independence.
Informative, Positive, Noteworthy (or All Three!)
Much has been written about the late Dr. Charles Krauthammer. Here is an interrsting, additional perspective on this most interesting man.
"Despite my disability, Dad instilled in me a hunger to achieve," recalls a New Jersey man and published author with a neuromuscular condition.
The American Foundation for the Blind launches its first fully accessible digital archive of the Helen Keller Collection.
The Arts and People with Disabilities
A quadriplegic photographer captures others participating in adaptive sports.
Notable Research on Disability
Dealing with students' mental health looks different at every school. But experts say doing it well requires a strategy that gets everyone involved.
Readers are invited to preview a new journal, Autism in Adulthood.
Interesting research from Switzerland: "The way people view social exclusion of others varies depending on how much they think the excluded person is to blame, and is heavily influenced by how similar group members are to each other."
People with a Disability in the Community (Disability Rights and Acceptance; Inclusion)
Nearly one in five people have a disability, but just 2% of publicly available imagery depicts their lives. The photo archiving service Getty, alongside Oath and the National Disability Leadership Alliance, is working to change that.
The avatar editor from Microsoft allows Xbox users to create a more diverse set of representations, including persons with disabilities. This development follows the company's efforts in enhancing accessibility to its game consoles.
Disability Awareness and Appreciation
Disability History in the US: Interview with Anna Caine and Tal Chafetz
Many people in South Jersey, our neck of the woods, have seen a bright face on the side of Goodwill trucks. Meet the man behind the picture.
Sometimes, police officers mistake interaction with people on the spectrum. Some police departments are working to change that.
A thoughtful, beautifully written blog piece by a lady with cerebral palsy: "I Am an Abled Person in a Disabled Body"
Fashion, Beauty, and Glamour: Inclusion of People with Disabilities
An Instagram blogger inspires others with disabilities to enjoy colorful fashion.