No person succeeds without the help of others. "After working with Frank [Halpin], I can definitely agree with that," said Ryan Tannenbaum, as he accepted the 2019 Andrew J. Murphy disability self-advocacy award. This honor recognized Ryan for all the work he did a great deal to advocate for himself, both in applying for his job and keeping it.
Ryan knows that helping another person does not mean doing everything for them. Achieving a goal is a team effort by both parties. His job coach, Frank Halpin, started the process with encouragement. "Frank taught me that despite my limitations, getting a job now is possible," said Ryan. In his acceptance speech, Ryan recalled that Frank told him early on that it is possible to continue working for a Bachelor's degree and working at the same time. After that, a company vice president called Ryan "a model employee and asset to the company." At the time of this writing, Ryan has been on the job now for more than 16 months.
For a people person such as Ryan, networking came naturally. Frank took Ryan to a professional meet-and-greet, providing him with the opportunity to interact with fellow businessmen and women at professional functions. Moreover, the networking exercise yielded a very positive result: an internship as a Financial Auditor at Affiliated Monitoring, a company in Union. Better yet, that internship became a full-time job for Ryan!
The internship was an excellent match for Ryan, who just earned his Bachelor's of Arts in Accounting at Kean University. "Learning about a business on the inside is really important to me." Although the job is in the Finance Department, the two fields are related. As Financial Auditor at Affiliated Monitoring, Ryan was able to save his employer a considerable sum of money when he discovered the company had an unnecessarily expensive service contract on one of its special elevators. His supervisor took the findings and negotiated a new deal on much more favorable terms. "It's really interesting to see how a business works on the inside," says Ryan.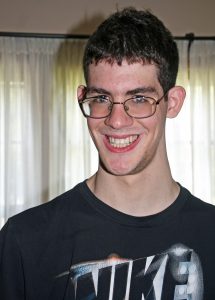 "I am grateful to Frank for getting my foot in the door. I really appreciate all the work he has put in for me," says Ryan. "I'd definitely recommend Advancing Opportunities and Frank for anyone who needs help with finding a job." Nevertheless, though Ryan received valuable career advice from Frank, the objective was independence. "Do your own work in looking for a job," says Ryan. "Do not fear the bad, especially if you do not hear anything back," he continues. "You cannot get discouraged when looking for a job." With hard work and determination, the effort is certainly paying off for Ryan.