Bowling, eating, going out… or all the above. There is so much Julián likes at Weekend Recreation. He enjoys participating in arts and crafts in the group settings the program provides year round. And, like so many of his peers, Julián loves the birthday celebrations every month.
Julián F. has been with Advancing Opportunities since he was eight, when he was receiving in-home respite. Then, when Julián reached adulthood, his case manager told his mother, Wanda, about Weekend Recreation, the community-based respite program in Passaic County. And Julián's childhood respite worker, Yanilda Valera, now sees him at Weekend Recreation.
"It's a great program," says Wanda, "because I get time for myself while he's in a place where he enjoys himself." Wanda gives "I think it is definitely worth it," says Wanda, adding "It is beneficial for both your child and yourself." Just as important, says Wanda, "I feel very comfortable leaving Julián to be looked after by the staff," along with Danica Lafortune, the program coordinator, who "is as nice as can be."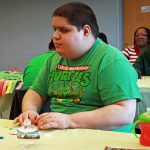 One particularly memorable event for Julián was the Weekend Recreation holiday party last year. "He and I really enjoyed the decorations, lights, and food," says Wanda. Such holiday and seasonal celebrations extend year round. "Because of this program, Julián is aware of the holiday celebrations," says Wanda.
And year round, "Julián looks forward to [Weekend Recreation]" So much so, "It's part of his weekly routine," Wanda says. "I know he always has something to look forward to." There's only one thing, says Wanda: "I just wish the program were available more than once week."