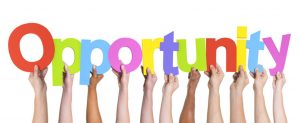 We're hiring!
We're hiring! Advancing Opportunities has immediate openings for part-time Direct-Support and Family-Support Professionals in residential care programs throughout New Jersey. In April, we are holding job fairs on the following days, from 10:00 a.m. to 3:00 p.m., as follows:
Tuesday, April 11. Advancing Opportunities, 98 U.S. Hwy. 46 W., Budd Lake, NJ
Thursday, April 20. Family Resource Network, 322 U.S. Hwy. 46 W., Ste. 290, Parsippany, NJ
Tuesday, April 25. Marlboro Free Public Library, 1 Library Ct., Marlboro, NJ
Candidates will be providing direct care to men and women with disabilities in residential support programs and group home settings. This entails includes supervision and/or assistance with personal care, daily living activities, recreational pursuits, transportation, medical appointments, or any other needs the individuals may have.
Advancing Opportunities provides supports to individuals with disabilities and their families so they can live fully in the community. Our team includes a diverse collection of men and women committed to treating the people and families we serve with dignity and respect and providing the highest quality services and supports.
Employees of the agency enjoy paid training and an excellent array of benefits, including health care and dental benefits for all eligible full-time staff and a 401(k) retirement plan for all eligible employees.


If you are unable to make it to one of the job fair open houses, you can also visit us online, at: https://advopps.org/careers/