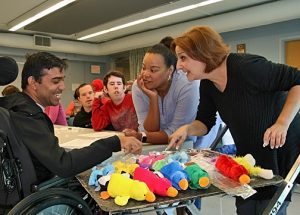 This is the time of year for gratitude. Among the disability community, it's a time to reflect on the good things in life, even in the face of adversity and challenges. These feelings of thanks extend among our consumers, families, team members, and Advancing Opportunities as a whole.
Our Consumers: New-Found Freedom
During a follow-up visit, Wayne K., a blind man with a passion for his business matched by his zest for life, said, "To be able to do all this gives so much freedom." Wayne has benefitted from a host of assistive technology apps and hardware.
Many of our consumers cannot speak. However, that does not mean they are nonverbal. Their smiles and laughter are the clearest indications of how they feel. Other use augmentative and alternative communication (AAC) assistive technology to express their feelings. "I have many friends," says Tess C., a woman with Cerebral Palsy. (We will feature Tess's story in one of our Assistive Tech Tuesday series blog pieces in this space soon.) "I feel independent and proud of myself," says Dave Finn, who immerses himself into his passion for golf from his wheelchair and computer.
Our Families: "I Know He's in Good Hands"
Ean S. is an active participant in our Parents' Night Out (PNO) South and summer camp programs. "It's great for me as a busy mom. I don't worry. It's a good break for Ean and me. I know he is well cared for. We have peace of mind when he's with PNO," says Michele. "All the folks who come in contact with Ean and me are not only professional but also caring," she says. "I know he's in good hands." Then there's Alex L., now 26 but a participant in our northeastern New Jersey Weekend Recreation program. "The staff is absolutely fantastic—and they make the program. I want to say thank you to Advancing Opportunities for supporting us as a family," says his mom, Lisa. Another Weekend Recreation participant, Luke S., rarely misses an event. Says his mom, Mary Kay, "He enjoys all the activities. He wishes it was Saturday every day. He's finished with one Saturday and is ready for the next one."
And the gratitude extends to residents in group homes, such as Melissa G. "I really appreciate all Advancing Opportunities does. They are very person centered, especially in encouraging self-directed care," says her mom, Sue. "For Melissa, the services Advancing Opportunities provides means she can live independently."
Our Team Members: The Giving Tree
Our annual Giving Tree event is under way. "This is a volunteer event to help our consumers' holidays be brighter," says Harlie Abrams, Senior Administrative Assistant. Earlier this month, Harlie distributed a list of modest items the men and women in our 15 residences want. From this, Advancing Opportunities staff can select one of the items and purchase it. These gifts will be brought over to the residents before Christmas. The themes are gratitude through giving. "Every gift counts, no matter how big or small," says Harlie. "Our mission is to help individuals with disabilities succeed in the community. This is an opportunity for us to show our consumers the support of their community," she adds.
From All of Us at Advancing Opportunities
Finally, we feel a profound gratitude to our many individual and corporate supporters over the past year, and there are many. Thank you! As we move from Thanksgiving to the holidays, we enter the season of giving. Next week, November 28, is Giving Tuesday. As you probably already know, Advancing Opportunities provides vital supports to help people with disabilities participate fully at home, work, school, and play. Thank you for sharing our vision and supporting our mission!