Coronavirus Disease 2019 (COVID-19): Update for Individuals, Families, and Providers – Medicaid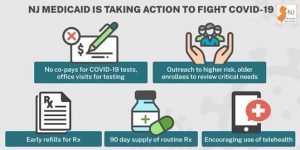 Governor Murphy announced administrative actions this week to waive consumer cost sharing for COVID-19 testing and testing-related services and enable NJ Medicaid beneficiaries to receive 90-day prescription refills for maintenance medications, in addition to a number of other steps. Please see the Governor's press release for complete details, and the NJ Department of Human Services (DHS) Coronavirus webpage for details specific to people served by DHS and its divisions and offices. In addition, the U.S. Centers for Medicare and Medicaid (CMS) issued guidance to help Medicare Advantage and Part D plans respond to COVID-19.
Coronavirus disease 2019 (COVID-19) is the respiratory illness caused by a new virus that first emerged in December 2019 and has since spread to at least 70 countries, including the United States. The NJ Department of Health (NJDOH) is leading the state's response to COVID-19 and is working closely with the U.S. Centers for Disease Control and Prevention. For up-to-date information and recommendations, please visit the NJDOH coronavirus webpage and the CDC coronavirus webpage. The NJDOH also maintains a "dashboard" of cases of COVID-19 in the state, by county. The World Health Organization (W.H.O.) has important international information on its website regarding the virus.
"While health officials have more to learn about how COVID-19 is spread, it is believed that COVID-19 is primarily
transmitted through respiratory droplets when a person coughs or sneezes, much like the flu."
The New Jersey Division of Developmental Disabilities (DDD) hosted a webinar for more than families and 1,000 community providers on COVID-19 preparedness for individuals with intellectual and developmental disabilities. Transcripts are now available, as follows:
This webinar provided an overview of what is known about COVID-19, methods of prevention to reduce the likelihood of spreading the disease or becoming infected, and some planning/preparation tips that households and providers can consider.
The U.S. Department of Education issued "Questions and Answers on Providing Services to Children with Disabilities During the Coronavirus Disease (COVID-19) Outbreak."
The New Jersey Department of Children and Families (DCF) has a helpful web page.
Have general COVID-19 questions? Call the public call center, at 1-800-222-1222, or 1-800-962-1253 if in New Jersey but using an out-of-state cell phone.