For someone who built a career on visual communication, losing her sight was a cruel blow. Already deaf, Natalie (not her real name) had realized her dreams of being a successful graphic designer. However, she also lost her sight four years ago. Though Natalie knew American Sign Language (ASL), for her blindness she needed to learn braille. Assistive Technology Specialist Brian Kenyon was there to help.
During her initial assistive technology (AT) evaluation, Natalie received a Focus 40 refreshable braille display. Such a device provides access to information on a computer screen via a series braille cells. As with traditional braille, the permutation of raised and lowered dots represents a letter of the alphabet, numeral 1 through 0, or punctuation mark. With the refreshable braille display, the cells change as new text appears. (In many cases, the Focus 40 is paired with a screen reader, such as JAWS.)
Braille also proved to be a challenge for Brian. To work with Natalie, he must talk through an interpreter. Natalie was learning how to use the braille display to navigate functions, such as being able to send Brian a text. "When we first started, it would take Natalie 40 seconds for a single command. It was hard and frustrating for her. But now," says Brian, "She can read and is not as frustrated without going through all the settings and options." For Brian, "The biggest thing I am trying to do is to be three steps ahead, so I will be able to answer the questions for her," he says. "I try to anticipate anything she needs." This saves tremendous time avoiding having to go through three-way communication. Brian admits that, at times, he feels mentally exhausted, but "in a good way." And for Natalie, "She feels that learning the braille display is integral part of what she does."
Natalie is learning to navigate both the full MS Office suite the accessibility apps on her iPhone. She will need these technical skills for when she goes to the Joseph Kohn Training Center, a facility in New Brunswick, to learn life skills, including taking notes applying for jobs. Brian also enlisted the help, Natalie's sister, Sheryl, who he says has been a tremendous support. The teamwork paid off. "It still tears my eyes when I say this," says Brian, reflecting on a recent breakthrough, when Natalie successfully emailed her sister. "I feel like I have my sister back," said Sheryl.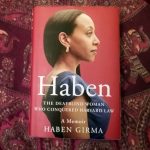 Earlier in this column, we reviewed Haben, the memoir of the first deafblind graduate of Harvard Law School. We believe that people with all disabilities should be able to participate fully in society. And assistive technology can help make that possible!