Welcome to our latest installment of noteworthy disability-themed articles! In addition, as a leader in the field, we are pleased to share our experience, knowledge, and expertise with the disability community through our social media outlets: Facebook, Twitter, LinkedIn, YouTube, Google+, and Pinterest.
In addition, we are specialists in the area of assistive technology and offer a huge array of services; the Assistive Technology Center is New Jersey's premier source of information and equipment.
Featured Advancing Opportunities Jobs
 It's chilly and there is still snow on the ground, but summer is coming! We have multiple openings for Summer Support Aides to support young men and women with developmental disabilities at summer camps:
Advancing Opportunities News
Members of our Assistive Technology Services team will be presenting next week: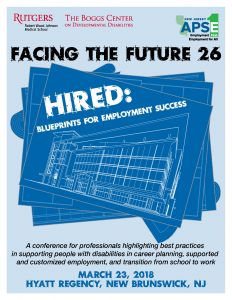 Friday, March 23. Facing the Future 26th Annual Conference
Hired: Blueprints for #Employment Success (Boggs Center on Developmental Disabilities and NJ ASPE)
Kristen Russell, Assistive Technology Specialist, will present "Achieving Greater Independence in the Workplace through Assistive Technology," Workshop 15, 10:55 a.m. to 12:10 p.m.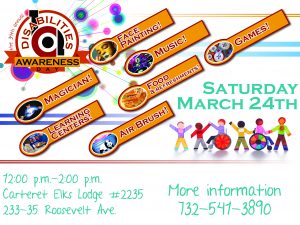 Saturday, March 24, 12:00 to 2:00 p.m. It's the 34th Annual Disabilities Awareness Day in Carteret, New Jersey! There will be many family-friendly activities. We'll be there, too!
Please stop by and say "Hello" to Jason Resnick, Assitive Technology Specialist.
Disability in the News (Mostly in New Jersey, the Population We Serve)
We pay tribute to one of the world's all-time great minds, Stephen Hawking, who passed away on March 14. And with his refreshing sense of humor, this great mind pays homage to other British great minds!
A New Jersey cheerleader does not let Down syndrome prevent her from doing what she loves.
 
Senate President Stephen Sweeney, is proposing to lessen the burden on school districts with an infusion of state money for special education, to be paid for by a corporate-tax hike. But it is unclear whether Gov. Murphy will back his plan.
A consortium of medical schools is focusing on developmental disabilities in their curricula.
Assistive Technology
Assistive Tech meets play, in two parts:
The parents of a little girl with Usher syndrome (deaf-blind) invented a toy to teach braille. It features a scanner that feeds data to a refreshable braille display, allowing the child to add favorite toys to identify. Right now, BecDot exists only as a prototype, but production units are expected to cost an affordable $100.
A 3D-printed puzzle teaches braille.
An Israeli startup, 6Degrees, has developed an armband computer-access device that replaces the traditional computer mouse.
For Parents of a Child with a Disability (Parenting)
Here are ten ways in which a service dog can help a child with autism fall asleep.
Moms from Los Angeles and small-town Indiana share their parenting journeys and experiences with autism.
Disability Rights, Accessibility
Handy infographics convey information on Web accessibility.
Employment for People with Disabilities
An increasing number of inclusive workplaces in New Jersey and elsewhere are recruiting employees with autism.
Women with disabilities face high barriers to entrepreneurship. This article explores how to change that.
Tom has autism and some of the challenging behaviors that often accompany the condition. How can he find and maintain employment?
Informative, Positive, Noteworthy (or All Three!)
Women who fly: read the story of five Paralympians who give their all.
Newark's American History High School teams up with a muralist for students with autism.
During Women's History Month, this is worth revisiting: Women with disabilities have taken to YouTube to raise awareness and educate others on their experiences.
The Arts and People with Disabilities
Talented artists with Down syndrome express themselves beautifully.
Drawing on his musical talent and positive energy, an autistic teen finds his path to independence.
People with a Disability in the Community (Disability Rights and Acceptance; Inclusion)
Individuals in motorized wheelchairs tell how they get around town… or  just about anywhere in the world.
London Fashion Week: Is disability hidden in fashion? It's a question of inclusion.
Disability Awareness and Appreciation
(dis)ABLED BEAUTY Exhibit brings beauty, disability, and ability together at Central Michigan University.
WNYC podcast (public radio): Adaptive design creates fashion for everyone.
An increasing number of fashion designers are creating comfortable, stylish shoes and clothing adapted to the needs of people with physical disabilities.
Women who mask their autism face many struggles.
Medical News—Research
A new blood test predicts autism with 92 percent accuracy.
Exactly 20 years ago this month, an esteemed medical journal published a small study that has become one of the most notorious and damaging pieces of research in medicine. Yet, the myth persists.
Animals and People with Disabilities: A Perfect Match
It's gratifying to see this meta-analysis confirm what so many of us have believed all along: the value of pets and other animals for our well-being.