Ewing, NJ, June 13, 2017 – Advancing Opportunities, Inc. announced today the appointment of Vince Marcucci to its Board of Directors. Marcucci is currently the Director of Community Affairs for the Trenton Thunder, the Double-A affiliate of the New York Yankees.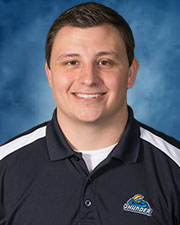 Mr. Marcucci is a bright young talent in the Central New Jersey community. In his role with the Trenton Thunder, he manages the team's corporate sponsorship program, charitable giving portfolio, and community engagement activities. He also serves as the Executive Director of the Grand Slam We Care Foundation.
"As the need for financial support for our mission continues to grow, I am confident Vince's experience in the non-profit and corporate sectors will help us meet our ambitious fundraising goals," said CEO Jack Mudge. "We need support from the community—both in terms of charitable giving and volunteerism—to do our work, and Vince joins us at the right time to help us meet those needs."
"At the Trenton Thunder, every day I get to see people achieve their dream of playing professional baseball," Marcucci said. "I believe everyone should have the chance to achieve their fullest potential, and Advancing Opportunities is making that happen for people with disabilities across our State. I am looking forward to helping drive community support for our mission."
Marcucci lends his time and talents to a lengthy list of community activities, including the Princeton Convention and Visitors Bureau Steering Committee, the Lower Bucks Chamber of Commerce Young Professionals Committee, and the Princeton Chamber of Commerce Young Professionals Group of which he is Vice Chair. He earned his degree in Sport Management from West Virginia University.