Welcome to our latest installment of noteworthy disability-themed articles! In addition, as a leader in the field, we are pleased to share our experience, knowledge, and expertise with the disability community through our social media outlets: Facebook, Twitter, LinkedIn, YouTube, and Pinterest.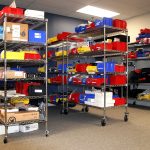 In addition, we are specialists in the area of assistive technology and offer an array of services. The Assistive Technology Center is New Jersey's premier source of AT information and equipment.
Featured Advancing Opportunities Job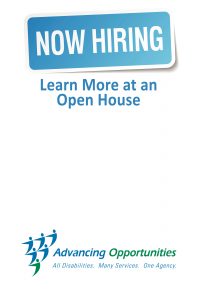 Do you enjoy working with adults with developmental disabilities? If so, a rewarding career is waiting for you! We are hiring caring, dedicated Direct Support Professionals to work at our residence in Warren County, New Jersey, or other parts of the state. We offer a competitive wage, with extra over the weekends.
We will be hosting an open house in Warren County, with interviews on the spot.
When: Monday, January 20, 2020, from 10:00 a.m. to 2:00 p.m.
Where: Starbuck's, Phillipsburg Mall, 1198 U.S. Rte. 22, Phillipsburg, NJ 08865
Cannot make it in person? No problem! Send your résumé and a cover letter to David Velardo, HR Recruiter, at dvelardo@advopps.org.
Disability in the News (Mostly in New Jersey, the Population We Serve)
The American Academy of Pediatrics published an extensive clinical review of evidence concerning autism spectrum disorder. The first update in 12 years, the report is searchable by topic, allowing for easy access to information. according to a Rutgers University study, one-fourth of children with autism are undiagnosed, especially among blacks and Latinos.
Let's Hear It for Positivity!
Here's a beautiful story of resiliency: A New Jersey college basketball team drafted a 9-year-old girl with cerebral palsy. "Don't take life for granted."
We loved this brief but thoughtful article, which portrays accomplished and talented individuals with various disabilities participating fully in society.
Informative, Positive, Noteworthy (or All Three!)
Spectrum is a fine source for articles on many aspects of autism. Here's their "2019: Year in Review." Included are research papers, quotes, stories, a photo essay, and five hot topics. The feature doesn't stop there; it offers a vision for 2020.
We always appreciate the insight of disability advocate Andrew Pulrang. Here's his latest Forbes column: "4 Ways to Understand the Diversity of the Disability Community"
As noted recently at the World Economic Forum, "Together we can end the dehumanization of disabled people."
Assistive Technology
Where assistive technology and self-advocacy meet: "Celebrating 8 Years of the e-NABLE Movement." The e-NABLE Community now comprises thousands of individuals from all over the world. They use their 3D printers to create free 3D printed hands and arms for those in need of an upper limb prosthetic device; their designs are open-source.
In perhaps related news, the Washington Post reported on new prosthetic limbs that go beyond the functional, to allow people to "feel" again. This article explains how.
The idea behind most assistive technology is to enable a person with a disability to adapt to a task. One woman is working on having AT adapt to the user through AI and machine learning, with the Puffin joystick. "Is This the Dawn of Smart Assistive Technology?"
Obital, a Danish startup, announced it has developed "the world's most affordable and accessible eye-tracking software." Called Eyetell, the software uses the front-facing camera on one's smartphone or tablet. Eyetell was developed specifically as an AAC tool for persons with A.L.S., cerebral palsy, spinal cord injury and other motor disabilities. In fact, Eyetell can detect the letters the user's eyes are seeing and either display these as text or translate to speech.
For Parents of a Child with a Disability (Parenting)
The American Academy of Pediatrics has issued new guidelines, emphasizing early intervention. The organization recommends well-child screenings for developmental delays at the 9-, 18-, and 30-month visits, with autism-specific screenings at 18 and 24 months. Another article offers further information. And the mother of two boys with autism tells of her experience and why such early intervention is critically important.
Advocacy and Self-advocacy
Disability advocate, activist, and model Mama Cax died at age 30. An article reflects on the life of this remarkable woman.
Disability Awareness
We revisit a 2015 opinion piece: "Focus on autism must broaden to include non-binary genders."
Disability Rights, Accessibility
This interesting article appeared in Fast Company. "The next decade will reshape how we think of technology accessibility"
Employment for People with Disabilities
The BBC created a video telling the story of Mitch. The 21-year-old describes how a job coach helped him find a job he loves, which can be a challenge for someone who is autistic and has a learning disability.
This piece appeared in Entrepreneur magazine: "Best Funding Resources for Disabled Entrepreneurs."
Students with Disabilities (Special Education)
An article from Forbes: "Malcolm Gladwell Demonstrates the Fairness of Extra Time as a Disability Accommodation"
Fashion, Beauty, and Glamour: Inclusion of People with Disabilities
Indeed, 2019 saw many developments in fashion accommodating and including people with physical disabilities.
A four-year-old model with Down syndrome has been featured in the latest American Girl catalog. The same company named Joss Kendrick, its first doll depicting a person with a physical disability "American Girl of the Year."
This 25-year-old designer creates clothes for people with disabilities. However, she still seeking acceptance in the fashion design industry.
Notable Research on Disability
New U.S. CDC autism guidelines call for early treatment.
…Yet, according to a Rutgers University study, one-fourth of children with autism are undiagnosed, especially among blacks and Latinos.
Recent research in the journal Physical Therapy found that "Creative yoga intervention improves motor and imitation skills of children with autism spectrum disorder."
People with a Disability in the Community (Disability Rights and Acceptance; Inclusion)
A new column in Forbes: Mindset Matters: "How Disability Will Influence the Next Decade of Innovation and Shape the Business of the Future."