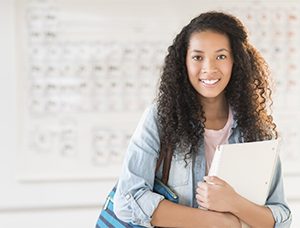 Advancing Opportunities has been providing supports to students with learning disabilities for more than 20 years. We believe all young adults have the right to explore their abilities and interests, and prepare for a future that excites them. One of our working partners, Learning Ally, offers bright, promising students who are blind or have a learning disability such as dyslexia six National Leadership Awards scholarships in two areas:
Mary P. Oenslager Scholastic Achievement Awards. These three awards are for college seniors and graduate students who are Learning Ally members and blind or visually impaired.
Marion Huber Learning Through Listening® Awards. These three awards are for Learning Ally members who are high school seniors and have learning disabilities.
The top three winners of each of these programs will receive a $6,000 scholarship, to be awarded at Learning Ally's national event next spring. These deserving students serve as role models for students with disabilities. Applications for both awards are due Wednesday, May 31, 2017.
Based in Princeton, New Jersey, Learning Ally is the nation's largest provider of audio textbooks and literature, and has been since their founding in 1948. Their credo: "Learning Ally empowers students who read and learn differently so that they may thrive. We help them to overcome obstacles and discover strengths, as we guide them along a path that ensures success." The company offers support and empowerment to both students with learning disabilities and the dedicated teachers who instruct them.
As a partner, Advancing Opportunities offers support with special devices through our Assistive Technology Center. In fact, students can try out many of these devices free of charge through the Technology Lending Center.
One of our student success stories is Brian Meersma. Brian benefited from services he received at the Assistive Technology Center. And in 2015, he was one of the National Achievement Awards recipients.